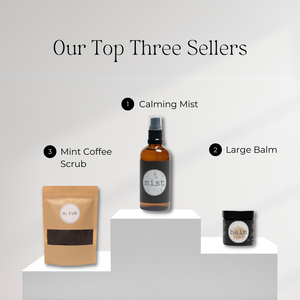 Three Faves
Regular price
$50.00
Sale price
$60.00
Tax included.
Here are our top three sellers all bundled together for your convenience and with a cheeky little discount too!

Calming Mist - by far the most popular single seller. The tester proved so popular that we had to do a refill! Delicious Orange, Rosewood, Lavender and Geranium scents. Perfect as a room spray, pillow spray or face spritzer. 
Oatmeal Infused Balm - can't go without the soothing balm with a hint of lavender. The smallest amount has the biggest impact for dry irritable skin, eczema or burn treatment. Also makes a great nappy rash treatment too. 
Coffee Mint Scrub - that minty scent leaves your body feeling and smelling invigorated. Perfect to use as an all over body scrub or a simple pampered foot scrub. 
---
More from this collection